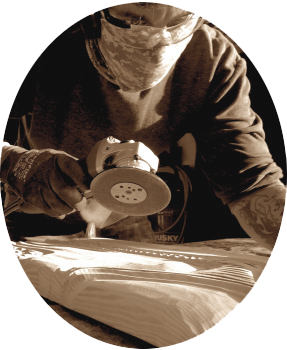 Trevor Presley is an artist and designer from San Diego, California.  His creative endeavors have led him on a winding path, from surreal painting, tattooing and glass etching to graphic illustration, furniture design and fine art wood carving.
While experimenting with power-tool textures in wood, Trevor discovered an inspiring dynamic by combining wood carving with acrylic painting techniques.  As an avid eco-gardener and long time nature lover, he developed this unique hybrid medium through renderings of naturalistic imagery on salvaged, repurposed and up-cycled wood materials.
Trevor's work has evolved into a signature form of original fine art wood carvings that manifest as wall decor, furniture and jewelry.  His subject matter embodies various organic forms of abstract plants, creatures and naturalistic shapes and patterns.  Trevor's artistic vision is to express the wonder and complexity of God's created life forms.
Please visit Trevor's website at:  http://trevorpresleyart.com