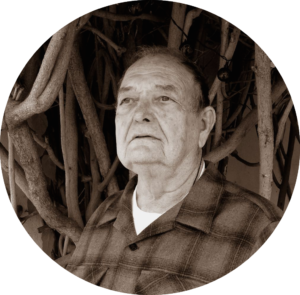 I was born in St. Marys, Pennsylvania, in 1938, moved to San Bernardino, California, in 1947, graduated from high school in 1955 and joined the U.S. Navy one year later.  I spent the next 31 years in the Navy and retired in 1987 with the rank of Master Chief.  After that I worked for the U. S. Post Office until 2001.  At that point I was fully retired and started on a hobby, scroll sawing.
For 4 years I made a great many items (and a lot of sawdust!) and decided to sell some of them at a craft fair taking place in a Walmart parking lot in Santee.  A very nice lady named Beebe Hopper (who turned out to be a wood artist and painter herself, doing pyrography) came by, commented on how nice my items were and suggested that I try to sell them in Balboa Park, San Diego.
I jumped at the chance, took my best (in my opinion) pieces to the next meeting of what was then known as the San Diego Carvers Guild, and was juried in.  The guild is now known as Art in Wood, Studio 38 in Spanish Village, Balboa Park.  I have been there since 2004, continuing non-stop with my scrollsaw art for the last 16 years.
All items shown here (as well as a great many more which are not shown!) are available for sale at Studio 38, or can be specially ordered.  Come in and look at all the choices, or just call me at:  619 448-1249